Integrated Technical Cooperation Programme (ITCP)
Integrated Technical Cooperation Programme (ITCP)
Rationale and mandate for IMO's Integrated Technical Cooperation Programme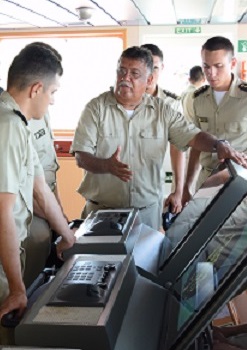 Many developing countries cannot yet give full and complete effect to IMO's instruments. For this reason and, as mandated by the Convention that created IMO, the Organization has established an Integrated Technical Cooperation Programme (ITCP), with the sole purpose of assisting countries in building up their human and institutional capacities for uniform and effective compliance with the Organization's regulatory framework. 

By fostering capacity-building in the maritime sector, the ITCP is crucial for assisting developing countries to implement IMO instruments for safer and more secure shipping, enhanced environmental protection and facilitation of international maritime traffic. In so doing, special attention is given to the particular needs of Africa, Small Island Developing States (SIDS) and Least Developed Countries (LDCs).

Funding Sources

In order to support the work of the ITCP, IMO secures financial, human and logistical support for its technical assistance activities from a wide variety of sources, including: 

• IMO's Technical Cooperation (TC) Fund;

• Multi-donor Trust Funds (MDTFs) established to encourage contributions targeted on specific issues and used to support specific technical cooperation programmes which address these issues;

• Bilateral arrangements concluded with governments and organizations to provide financial and in-kind support for specific programmes;

• Other arrangements; and

• One-off cash donations.

Additional information on IMO's resource mobilization strategy, existing partnerships and partnership opportunities can be found here.


ROLE OF IMO'S TECHNICAL COOPERATION WORK IN PROMOTING SUSTAINABLE AND SOCIO-ECONOMIC DEVELOPMENT

Action
Impact

IMPROVING THE SAFETY, SECURITY, ENVIRONMENTAL SOUNDNESS AND EFFICIENCY OF MARITIME ACTIVITIES

well-run merchant and fishing fleets

improved turnaround of vessels and port throughput

increased global trade

improved balance of payments

reduced number of lives and ships lost at sea

ENHANCING MARINE ENVIRONMENT PROTECTION




cleaner waters and coasts

increased tourism

greater access to protein through improved fish catches

integrated coastal zone management




PROMOTING SUSTAINABLE LIVELIHOODS AND POVERTY ERADICATION


employment for seafarers in the global shipping and fisheries industries

advancement of women in the maritime sector

increased foreign exchange earnings

consequent beneficial impact at local level, especially in coastal/fishing communities
Vision and Strategy of the ITCP
IMO's technical cooperation programme began in the 1960s. During the late 1990s, IMO's Technical Cooperation Committee (TCC) comprehensively reformed the technical cooperation work of the Organization in order to increase its effectiveness. The reform provided a policy framework for the preparation, design and implementation of the ITCP, covering the following key principles:
ownership of the programme development and implementation process rests with the recipient countries themselves;

IMO's regulatory priorities are systematically integrated into the programme-building process;

the ITCP promotes the development of human and institutional resources in the maritime sector, on a sustainable basis, including the advancement of women;

the ITCP promotes regional collaboration and technical cooperation among developing countries;

IMO builds partnerships with Governments, industry and international development aid agencies to ensure appropriate funding for the ITCP;

IMO also seeks to mobilize regional expertise and resources for its technical assistance activities;

the ITCP is coordinated with other development aid programmes in the maritime field in order to maximize the benefits of combined efforts and resources; and

IMO ensures, through monitoring systems and impact assessment exercises, that programme targets are met and that lessons learned are transferred back to the programme-building process.
Assembly resolution A.1110(30), containing the Organization's strategic plan for the six-year period 2018-2023, identifies the vision statement for IMO for these six years as:
IMO will uphold its leadership role as the global regulator of shipping, promote greater recognition of the sector's importance and enable the advancement of shipping, whilst addressing the challenges of continued developments in technology and world trade; and the need to meet the 2030 Agenda for Sustainable Development.

To achieve this, IMO will focus on review, development and implementation of and compliance with IMO instruments in its pursuit to proactively identify, analyse and address emerging issues and support Member States in their implementation of the 2030 Agenda for Sustainable Development.
The Strategic Plan also identifies seven strategic directions and accompanying outputs and performance indicators for enabling IMO to achieve its mission objectives in the years ahead.

The seven strategic directions are: 

Improve implementation
Integrate new and advancing technologies in the regulatory framework
Respond to climate change
Engage in ocean governance
Enhance global facilitation and security of international trade
Ensure regulatory effectiveness
Ensure organizational effectiveness

Technical cooperation links to all of these, but especially to strategic direction 1: Improve implementation.

Programme Development and Implementation

IMO's technical cooperation activities are conceived and developed through partnerships between recipient countries, resource-providers and the Organization – which is based on three complementary factors:
assessed needs of developing countries, and their full ownership and direction of the assistance process;

interests of the resource-providers in supporting sustainable maritime development; and

promotion of uniform implementation and enforcement of IMO's rules and standards.
IMO's technical assistance activities, such as needs assessment/advisory missions, national/regional seminars/workshops and long-term training courses, are delivered mostly through the Secretariat and through regional outreach mechanisms, such as:
IMO's regional presence in the field, in Africa, Asia, the Caribbean and the Pacific, which provides advice to developing countries and executes technical cooperation activities; and

regional institutions and networks that, in partnership with IMO, coordinate and manage regional technical assistance programmes.
The IMO Secretariat also provides a programme implementation function where regional outreach mechanisms are not present, and when the activities have a global nature that applies to all developing regions. Furthermore, the Secretariat has put in place systems to ensure programme monitoring, evaluation and impact assessment. In this manner, IMO's technical assistance activities can be adjusted to meet new challenges and lessons learned can then be assimilated for the future.

Priorities for the Future
IMO's Technical Cooperation Programme addresses the maritime needs of developing countries by focusing on three priorities that, together, can ensure sustainable maritime development, efficient and safe maritime transport services, as well as effective environmental protection.

ROLE OF IMO'S TECHNICAL COOPERATION WORK IN PROMOTING SUSTAINABLE AND SOCIO-ECONOMIC DEVELOPMENT
PRIORITIES
RESULTS

ADVOCACY OF GLOBAL MARITIME RULES AND STANDARDS

International treaty instruments ratified, and implementing national legislation put in place

INSTITUTIONAL CAPACITY-BUILDING

Public sector departments capable of ensuring the effective exercise of flag, port and coastal State jurisdiction

HUMAN RESOURCE DEVELOPMENT

Trained male and female experts to develop and manage national programmes for:


maritime safety administration
marine environment protection
development of maritime legislation
facilitation of maritime traffic
technical port operations
training of seafarers and shore-based personnel