GloFouling Partnerships Project
GloFouling Partnerships Project

The Project

The GEF-UNDP-IMO GloFouling Partnerships Project is a global initiative bringing together key partners to respond to a global environmental problem, namely invasive aquatic species introduced via biofouling. The Project fosters an intervention at multiple levels: driving legal, policy and institutional reforms in countries to implement the IMO Biofouling Guidelines; developing capacity to enact a national policy; and bringing in active private sector participation to identify effective solutions and technologies to deal with biofouling.
The initiative is part of the wider efforts undertaken by IMO, in collaboration with the Global Environment Facility (GEF) and the United Nations Development Programme (UNDP), to protect marine ecosystems from the negative effects of invasive species - one of the greatest threats to marine biodiversity. This work started in 2001 under the GloBallast Programme, which focused on ships' ballast water as a pathway for the introduction of invasive aquatic species and now continues as GloFouling Partnerships Project, which focuses on biofouling as a pathway, i.e. the accumulation of aquatic organisms on wetted or immersed surfaces such as ships and other offshore structures. Watch this short project introductory animation for more information.
Protecting marine biodiversity

The introduction of invasive aquatic organisms into new marine environments via biofouling may not only affect marine biodiversity as well as coastal properties and infrastructures, but also has measurable impacts on a number of economic offshore sectors such as oil & gas, fisheries, aquaculture and ocean renewable energy. Addressing this issue is ultimately about safeguarding ecosystem services that sustain the livelihoods of coastal communities across the globe.
Ship biofouling and GHG emissions
Biofouling on ships' hulls increases their surface roughness, which in turn increases frictional resistance and ultimately fuel consumption and GHG emissions. Solutions catalysed by the GloFouling Project (e.g. more effective hull maintenance, reduced fouling rates due to use of advanced hull coatings and timely propeller polishing) have the potential to reduce drag and energy consumption by ships, contributing to a tangible reduction of GHG emissions in line with the IMO GHG Emissions reduction strategy.
A cross-sectoral initiative
The GEF-UNDP-IMO GloFouling Partnerships Project, launched in December 2018, is driving actions to address the biofouling issue across multiple sectors. Specifically, the Project supports the implementation of the IMO 2011 Guidelines for the control and management of ships' biofouling, which provides a globally consistent approach on how biofouling should be controlled and managed to minimize the transfer of invasive aquatic species through ships' hulls.

The Project will also spur the development of best practices and standards for improved biofouling management in other ocean industries, such as aquaculture, with the contribution of the Intergovernmental Oceanographic Commission of UNESCO (IOC-UNESCO) and the World Ocean Council (WOC). The Project will run for six and a half years, until its closure in May 2025.
Lead Partnering Countries

The GEF is providing a US$6.98 million grant to deliver a range of governance reforms at the national level through numerous capacity-building activities, training workshops and opportunities for technology adoption to help address the issue of invasive species in twelve countries, representing a mix of developing nations and Small Island Developing States. These countries will spearhead the work of the GloFouling Project as Lead Partnering Countries (LPCs): Brazil, Ecuador, Fiji, Indonesia, Jordan, Madagascar, Mauritius, Mexico, Peru, the Philippines, Sri Lanka and Tonga.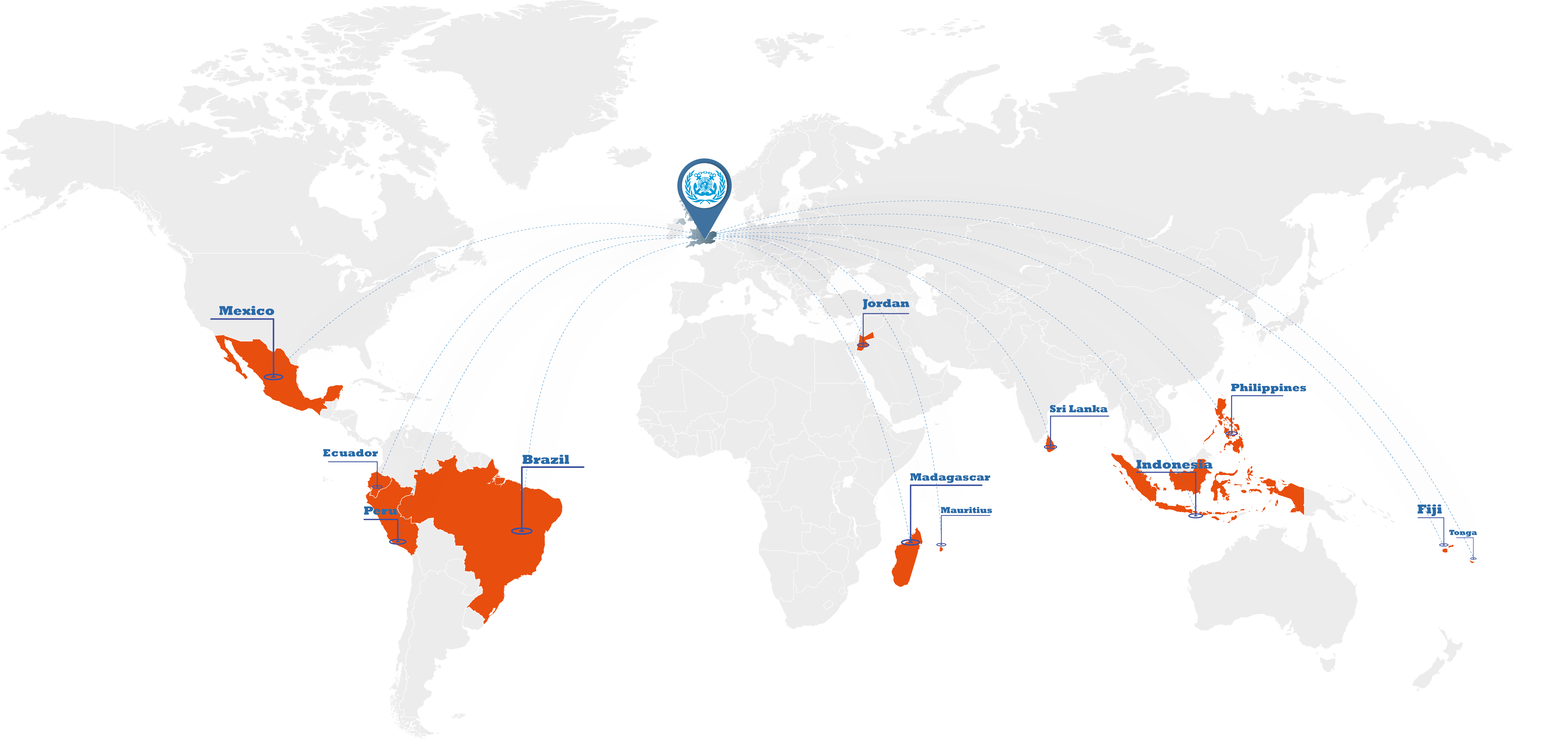 Geographical distribution of the Lead Partnering Countries in the GloFouling Partnerships Project
The Project is expected to also benefit several other countries globally, including Partnering Countries (Argentina, Chile, China, Comoros, Djibouti, Iran, Jamaica, Malaysia, Nigeria, Somalia, Sudan, Suriname and Tuvalu) and member countries of the Regional Coordinating Organizations (RCOs) that provide support to the Project.
Interested stakeholders
In addition to national governments, a number of  stakeholders interested in the biofouling issue support the Project as Strategic Partners.Their contribution is typically in-kind, by providing input, technical and scientific expertise to the Project activities, participate in R&D forums, expert workshops and other meetings. Currently the Project is supported by over 50 Strategic Partners, including: developed countries; industry associations; environmental organizations and institutes; academia and other international and regional intergovernmental organizations.
Private sector
Strong participation from private sector stakeholders is also expected, replicating the successful public-private sector partnership model used by IMO in previous projects. The GloFouling Partnerships Project launched the Global Industry Alliance (GIA) for Marine Biosafety, which is designed to be a cross-sectoral platform of collaboration bringing together committed leaders from maritime, shipping, ocean energy, aquaculture and other ocean-based industries, to support best management practices and innovative solutions.

Scientific aspects
While IMO focus is on shipping, the IOC-UNESCO leads the approach on the scientific aspects and non-shipping pathways, including through the establishment of a Working Group 44 of the Joint Group of experts on the Scientific Aspects of Marine Environmental Protection (GESAMP) to address biofouling management (GESAMP WG 44). In addition, IOC-UNESCO works hand in hand with GloFouling Partnerships team at IMO to increase awareness of this environmental challenge among key stakeholders.
Co-financing
In addition to the seed funding provided by GEF, the Project partners are expected to provide co-financing in the region of US$41 million, both cash and in-kind. This includes high level of investment within the industry to research and develop new solutions and technologies.

2030 Agenda and Sustainable Development Goals
Through their commitment to the outputs to the GloFouling Partnerships Project, the 12 LPCs will make direct contributions to the targets set out in the Sustainable Development Goals (SDGs) of the 2030 Agenda for Sustainable Development.
The GloFouling Project will address SDG 14 (Conserve and sustainably use the oceans, seas and marine resources for sustainable development), SDG 13 (Take urgent action to combat climate change and its impacts) and SDG 15 (Protect, restore and promote sustainable use of terrestrial ecosystems, sustainably manage forests, combat desertification, and halt and reverse land degradation and halt biodiversity loss).
Additionally, GloFouling Partnerships includes targeted initiatives focusing specifically on women, aimed at creating an empowering space for reducing existing disparities in maritime administrations, the scientific community and the private sector (SDG 5); actions to encourage industry innovation and technology adoption (SDG 9); and specific opportunities for South-South, North-South and triangular cooperation both at the public and private sector levels (SDG 17).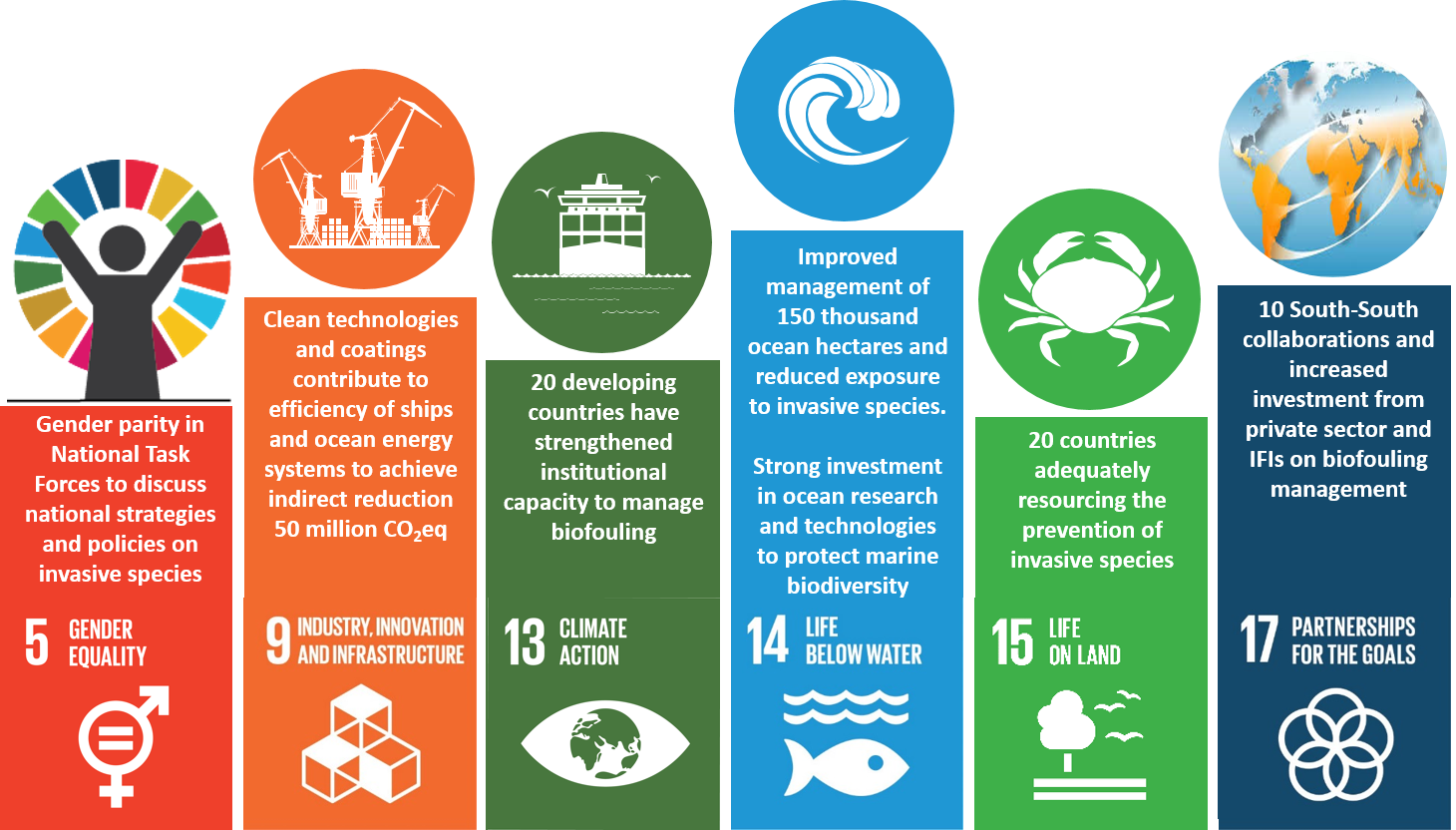 GloFouling Partnerships Project – Expected contribution to SDGs
GloFouling Project and the Aichi Biodiversity Targets  
The Convention on Biological Diversity (CBD) and its Aichi Biodiversity Targets address the underlying causes of biodiversity loss by mainstreaming biodiversity across government and society, reducing the direct pressures on biodiversity, preserving genetic diversity and promoting sustainable use of ecosystem services.
Through its Outcome 1.1, the GloFouling Partnerships will contribute to the CBD Strategic Goal B: "Reduce the direct pressures on biodiversity and promote sustainable use", and its associated Aichi Target 9: "By 2020, invasive alien species and pathways are identified and prioritized, priority species are controlled or eradicated, and measures are in place to manage pathways to prevent their introduction and establishment".

 ________________________________

For more information, consult the project website: www.glofouling.imo.org
For the Project matters, contact the Project Coordination Unit, at IMO: glofouling@imo.org