Illegal, Unreported, and Unregulated (IUU) Fishing
Illegal, Unreported, and Unregulated (IUU) Fishing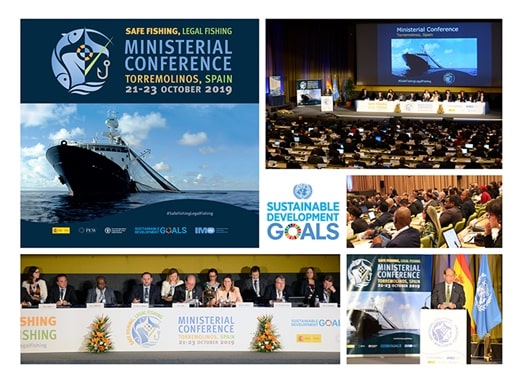 ILLEGAL, UNREPORTED, AND UNREGULATED (IUU) FISHING

Illegal, unreported, and unregulated (IUU) fishing remains one of the greatest threats to marine ecosystems due to its potent ability to undermine national and regional efforts to conserve and manage fish stocks and, as a consequence, inhibits progress towards achieving the goals of long-term sustainability and responsibility. IUU fishing takes advantage of corruption and exploits weak management regimes, in particular those of countries lacking the capacity and resources for effective monitoring, control, and surveillance (MCS). IUU fishing threatens marine biodiversity, livelihoods, exacerbates poverty, and augments food insecurity. The focus of the international community remains on IUU Fishing as a serious issue for the global fishing sector that impacts negatively on safety, on environmental issues, on conservation and on sustainability.
The key driving concept on which IMO can assist in the fight against IUU fishing is based on the widely spread assumption that an IUU vessel is likely to be an unsafe or a sub-standard vessel. There are also issues of marine debris and marine litter involved in IUU fishing, which are not only related to marine environment but also the safe navigation of ships.  In addition, types of fishing gear and fishing methods are employed by IUU fishers in areas where their use is prohibited, to the detriment of those areas' resources (fish extracted) and the marine environment (destruction of corals, habitats, etc), where often these gears may get caught in bottom structures and thus be abandoned.
Through fora such as the UN and its specialized agencies IMO, FAO and ILO, a range of international instruments covering flag, coastal, port and market State responsibilities, which together comprise a powerful suite of tools to combat IUU fishing, have been developed, and the cooperative work, particularly through a Joint FAO/IMO/ILO ad hoc Working Group on IUU fishing and related matters (JWG), has been undertaken within the context of each organization's mandate. IUU fishing-related matters are under the purview of the Sub-Committee on the Implementation of IMO Instruments reporting to the Maritime Safety Committee and the Marine Environment Protection Committee.
Clear efforts are being made at international, regional and national levels through the implementation of international instruments to tackle IUU fishing. Innovations in fisheries monitoring, control and surveillance technology together with developments in systems to facilitate information exchange are supporting States to fulfil coastal, flag, port and market responsibilities.