IMO participation at COP 26 (see also COP 26 side events)
Event
Organizer/participation
Day/time
Location
Further information

Subsidiary Body for Scientific and Technological Advice (SBSTA)

IMO Secretariat to update on IMO's work under agenda item 10(g) – "Emissions from fuel used for international aviation and maritime transport".

31 October-6 November

Conference venue

https://unfccc.int/process-and-meetings/conferences/glasgow-climate-change-conference

SBSTA Ocean and Climate Change Dialogue roundtable

Global Ocean Forum, Plymouth Marine Laboratory, Sasakawa Peace Foundation, the Oceano Azul Foundation, UNESCO

Monday, 1 November, 15.00-16.30

COP26 Virtual Ocean Pavilion (VOP)

https://cop26oceanpavilion.vfairs.com

Maritime UK Reception

UK Maritime
Speaker: IMO Secretary-General

Tuesday, 2 November, 4.00-6.00 pm

International Maritime Hub at COP26, City of Glasgow College's Riverside Campus

https://www.maritimeuk.org/imh-2021/imh-events/maritime-uk-reception/



Managing Biofouling – A Win-Win Solution to Help Curb Climate Change and Preserve Ocean Biodiversity

Official side event: IMO Glofouling partnerships, BIMCO-IOGP-ICS

Thursday, 4 November, 3-4.15pm

Derwentwater Room, Blue zone

GloFouling Partnerships Project (imo.org)

Shaping the future of shipping conference

ICS /IMO Secretary-General to participate

Saturday, 6 November

University of Strathclyde's Technology and Innovation Centre

Event programme | International Chamber of Shipping (ics-shipping.org)

IMO Event - IMO's commitment to decarbonize shipping through concerted international action

IMO

Tuesday, 9 November, 5.00 pm

City of Glasgow College, Riverside Campus

Event flyer.pdf




IMO: Seizing opportunities for developing countries in providing zero-carbon fuels to global shipping

Official side event: IMO, UNCTAD

Wednesday, 10 November, 3.00 pm-4.15 pm

Derwentwater Room, Blue zone

https://www.imo.org/en/About/Events/Pages/-IMO-UNCTAD-side-event-at-COP26.aspx




Maritime decarbonisation

United Kingdom with IMO Secretary-General

Wednesday, 10 November, 3.30 pm

UK Pavilion, Blue zone

To follow

Maritime decarbonisation

United Kingdom with potential IMO participation TBC

Wednesday, 10 November, 3.45 pm

UK Pavilion, Blue zone

To follow

Transforming our future – How to decarbonise Africa's shipping sector

Ministry of Transport, Infrastructure Housing, Urban Development and Public Works, Kenya, GMN and MTCC Africa

Wednesday, 10 November, 13:00-14:30

Africa Pavilion, Blue Zone

GMN (imo.org)


Program - COP26 GMN Side Event1.pdf
COP26 Visual Program Flyer1.jpg


UN-Oceans: Ocean Action = Climate Action


Ocean-based mitigation and adaptation solutions are essential to the achievement of the Paris Agreement. This side event will showcase efforts that nations are taking, with the support of the UN, to enhance these solutions for ecosystems and societies.


Secretariat of the United Nations Framework Convention on Climate Change (UNFCCC)


Ms. Joanna Post
Speakers: Lead organization: UN-Oceans Supporting organizations: FAO, IAEA, IMO, IOC-UNESCO, UN/DOALOS, UNEP-CMS, UNESCO, UNCTAD, UNFCCC, WMO 

Thursday, 

11 November, 

16:45—18:00


Multimedia Studio 1

 

SEORS | Side events list (unfccc.int)
The IMO Pavilion can be found in Hall 5.
To view UN Blue Zone side events live, follow this link
IMO's commitment to reduce GHG emissions from shipping

In pursuing its mission – safe, secure and efficient shipping on clean oceans – IMO works vigorously and consistently towards developing a comprehensive regulatory regime aimed at protecting the marine environment.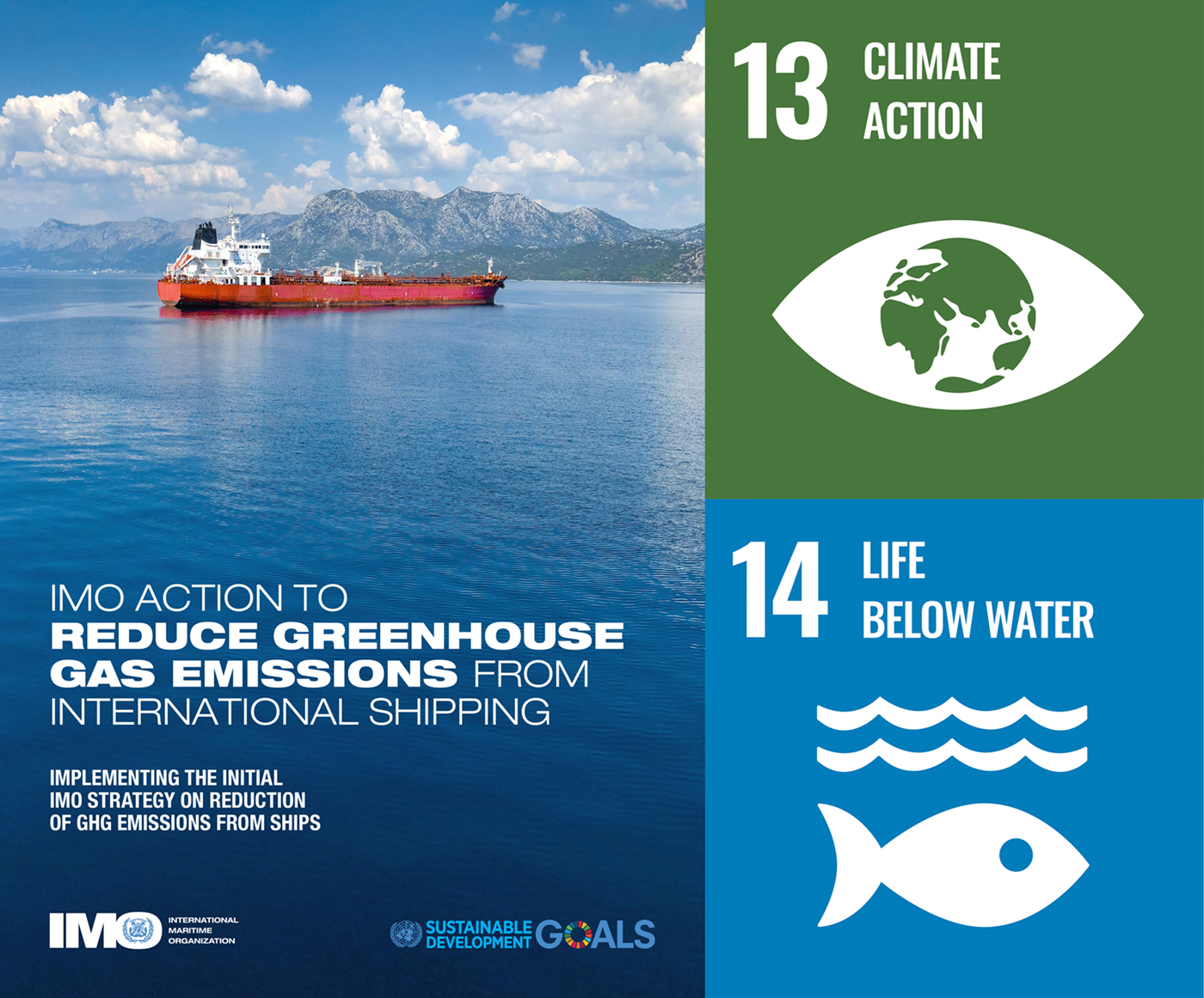 As stated by its Secretary-General, Kitack Lim, the IMO community is highly committed to tackling climate change. The Organization's strategic plan for 2018-2023 firmly supports the implementation of the United Nations Sustainable Developments Goals and identifies as one of IMO's main directions the need to develop ambitious and realistic solutions to minimize shipping's contribution to air pollution in response to climate change.
The Initial IMO Strategy on reduction of GHG emissions from ships (the Initial Strategy) was adopted in April 2018. It set out IMO's commitment to reducing carbon intensity per transport work by at least 40% by 2030, pursuing efforts towards 70% by 2050, and total annual GHG emissions from international shipping by at least 50% by 2050 compared to 2008 and work towards phasing them out as soon as possible.
IMO's Marine Environment Protection Committee (MEPC) has been dedicating an integral part of its agenda to reducing GHG emissions from ships since 2010. Ten years ago, IMO adopted the first mandatory climate mitigation measures applicable to an entire industry sector globally. Building upon this regulatory framework, as developed and strengthened over the years, MEPC 76 adopted in June 2021  a short-term carbon intensity reduction measure which combines technical and operational approaches to improve the energy efficiency of ships, thereby reducing their GHG emissions. MEPC also approved a work plan for the development of mid- and long-term measures aiming at achieving the levels of ambition agreed.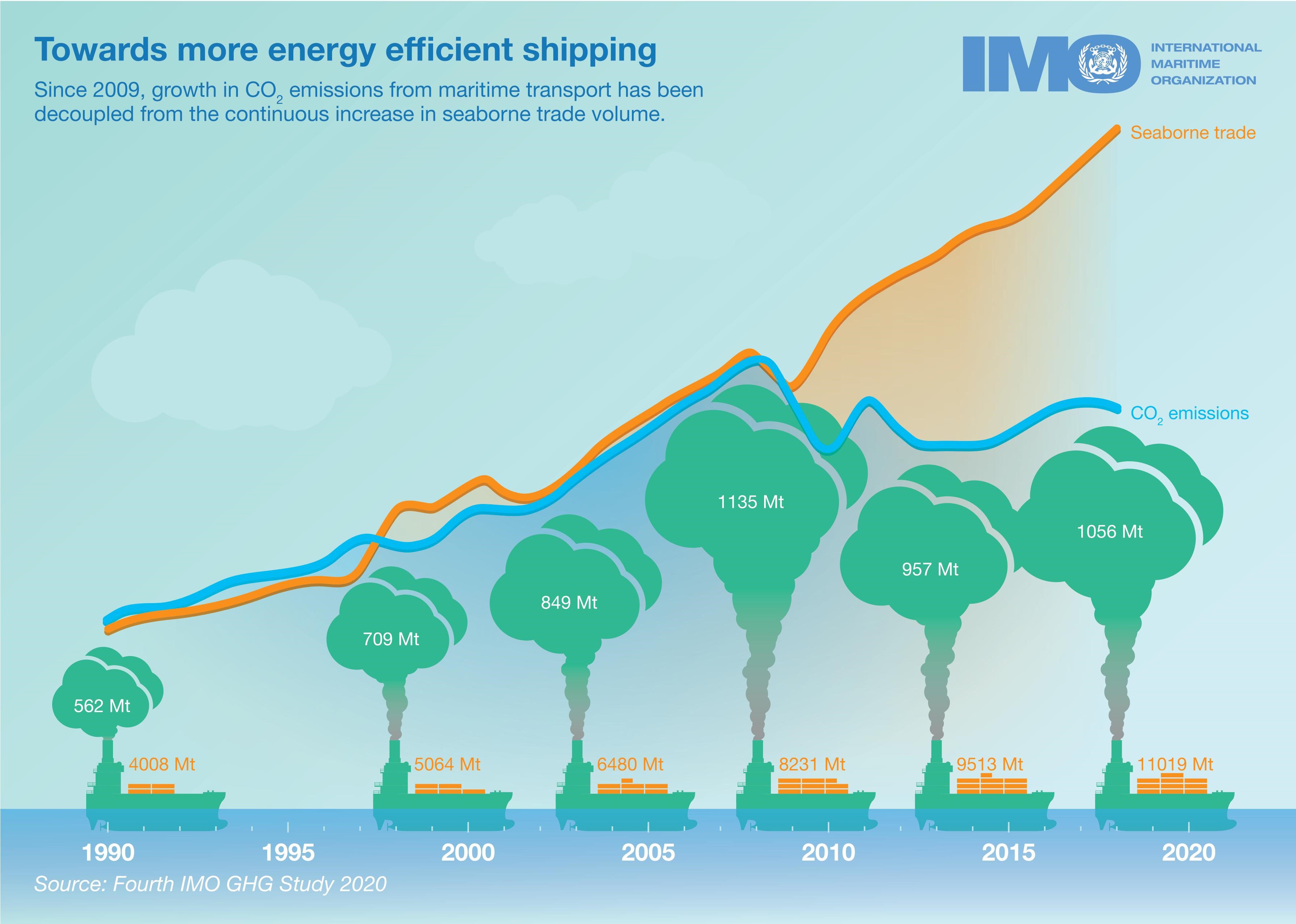 An Intersessional Working Group on reduction of GHG emissions from ships (ISWG-GHG) has been set up by MEPC. It held its 9th session in September 2021 focussing on the development of lifecycle assessment guidelines for maritime fuels, and will met again in October 2021 for its 10th session with a view to, inter alia, consider mid-term GHG reduction measures proposals.
IMO's commitments do not just remain aspirational targets but lay down a binding regulatory framework that applies to the world fleet and is enforced globally. As they apply worldwide, IMO regulations provide a global level playing field without distortion of specific trade flows and agreements, and as such do not lead to carbon leakage or to sub-optimal shipping in certain parts of the world.
IMO's action to assist States in the transition
Member States are also invited within the IMO framework to take action to develop and update voluntary National Action Plans (NAP) with a view to contributing to reducing GHG emissions from international shipping by supporting actions at national level.
With the aim of leaving no one behind, IMO promotes technical cooperation and transfer of technology  relating to the improvement of energy efficiency of ships through the Organization or between Parties to the MARPOL convention (MARPOL Annex VI Reg. 29). In that respect, IMO provides support to Member States, especially developing States, that request technical assistance and capacity building to implement the Initial Strategy. This action is funded by a multi-donor trust fund (GHG TC-Trust Fund) established in May 2019.
It is against this backdrop that IMO will participate in the UN Climate Change Conference (COP 26) in Glasgow, UK, starting on 31 October 2021. An update of IMO's work to address GHG emissions from fuel used for international shipping will be provided to the Subsidiary Body for Scientific and Technological Advice (SBSTA) under agenda item 10(g) – "Emissions from fuel used for international aviation and maritime transport".
Carbon capture and storage and marine geoengineering
IMO's work on climate change extends beyond shipping. As the secretariat for the London Convention and London Protocol, IMO regulates carbon capture and storage (CCS) beneath the seabed to mitigate the impacts of increasing concentrations of carbon dioxide (CO2) in the atmosphere, as well as ocean fertilization and other marine geoengineering activities.

CCS is a technology that aims for the permanent isolation and storage underground (sequestration) of CO2.. CCS has been regulated by the London Protocol since 2006.  

In 2013, the London Protocol was amended to regulate ocean fertilization. This will, when in force, provide a legally binding mechanism to regulate the placement of matter for ocean fertilization, while also "future-proofing" the LP to enable regulation of other marine geoengineering activities that fall within its scope. Read more: London Protocol Climate Change Leaflet 2019 _FINAL_online version.pdf (imo.org)
IMO's objectives for COP 26

IMO's main objectives for the Glasgow Climate Change Conference (COP 26) are, in all communications, to seek to make clear that:
international shipping is indispensable to the world and is a vital industry to support the UN Sustainable Development Goals; and

as its track record to date so clearly demonstrates, IMO is the appropriate international body to continue work to address GHG emissions from ships engaged in international trade.