World Maritime theme 2023
World Maritime theme 2023
IMO World Maritime theme for 2023: "MARPOL at 50 – Our commitment goes on"
MARPOL at 50 – Our commitment goes on
The International Maritime Organization's World Maritime Theme for 2023 is 'MARPOL at 50 – Our commitment goes on'. 

The theme reflects the organization's long history of protecting the environment from the impact of shipping via a robust regulatory framework and emphasizes its ongoing commitment to this important work. The theme 'MARPOL at 50 – Our commitment goes on' also spotlights the International Convention for the Prevention of Pollution from Ships (MARPOL), which covers prevention of pollution of the marine environment by ships from operational or accidental causes.

IMO Secretary-General Message
How does
IMO's

marine protection treaty make a difference?


IMO's marine protection treaty, the MARPOL Convention, is the main international convention covering prevention of pollution of the marine environment by ships and currently includes six technical Annexes. Click on the images below to learn how the treaty makes a difference in marine protection.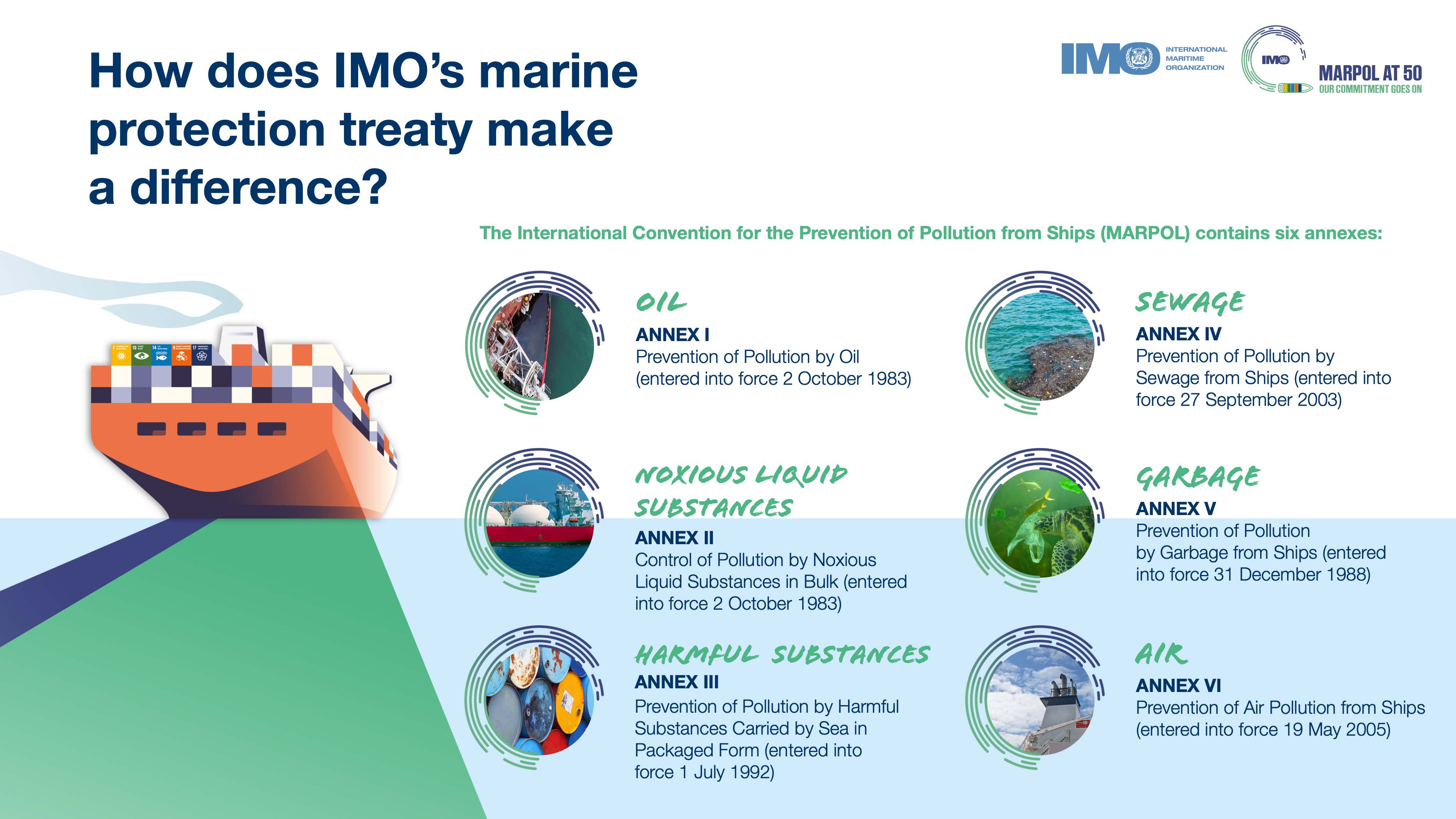 World Maritime Day 2023 
The World Maritime Day 2023 will take place on 28 September 2023. 
As part of the celebrations, IMO Headquarters will be bathed in blue light again in the evening of the day to promote this year's World Maritime theme, "MARPOL at 50 – Our commitment goes on". IMO invites participants to lighting up buildings, bridges, ports, ships, monuments, museums and other emblematic landmarks on the occasion of the 2023 World Maritime Day celebration. Read more details here.  

Social media

IMO invites Members States and everyone in the maritime industry to celebrate the day by using the hashtag #WorldMaritimeDay and tagging IMO on social media (Twitter, Instagram, Facebook and LinkedIn). 

Parallel event 

The World Maritime Day Parallel Event 2023 will be held in the Islamic Republic of Iran, from 23 to 26 October 2023. More information about the event here.

Background
'MARPOL at 50 – Our commitment goes on' promotes discussions on the next phase of IMO's work to further protect the planet and the oceans, is also linked to the UN 2030 Agenda for Sustainable Development and the 17 Sustainable Development Goals (SDGs). These include affordable and clean energy (SDG 7); industry, innovation and infrastructure (SDG 9); climate action and sustainable use of the oceans, seas and marine resources (SDGs 13 and 14); and the importance of partnerships and implementation to achieve these goals (SDG 17).
IMO Secretary-General Kitack Lim said, "A lot has changed in shipping in the 50 years since the MARPOL Convention was adopted on 2 November 1973, and IMO's commitment to protecting and preserving the marine environment has remained unwavering. The World Maritime Theme for 2023 will allow us to celebrate this legacy, while also underscoring our dedication to building on the existing foundations as we move towards a brighter future together."

Please read more about MARPOL here.