AAMA Conference and IMO Conference on Low-Carbon Shipping in Africa
AAMA Conference and IMO Conference on Low-Carbon Shipping in Africa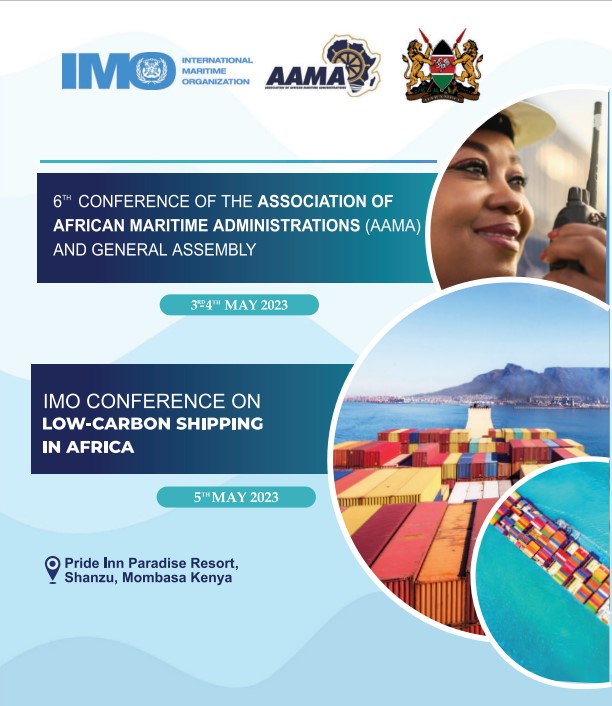 Association of African Maritime Administrations (AAMA) Conference

The 6th Association of African Maritime Administrations (AAMA) Conference and General Assembly  covered topics including mainstreaming the maritime sector into national economic planning considerations; maritime administration models and their impact on service delivery; and outlook for women in the maritime sector in the next decade. 

Date: 3-4 May 2023

Location: Mombasa, Kenya

Please find the programme here and above. 

IMO conference on Low-Carbon Shipping in Africa

The IMO conference on Low-Carbon Shipping in Africa will focus on the theme "Overcoming challenges by unlocking opportunities and investments." 
Subjects covered included IMO's contribution to global climate action; shipping as enabler of climate action and energy transition; and capacity building, partnerships and technology cooperation.

Date: Friday 5 May 2023

Location: Mombasa, Kenya
Please find the Programme here. 
Video of the entire conference is available here on YouTube.
Presentations

Please find the presentations below:



Background

Underscoring the importance of responding to the challenges posed by climate change, maritime administrations have a significant responsibility to accelerate shipping decarbonization. The green transition of the maritime sector requires wide-ranging efforts to ensure active facilitation of the adoption of an ambitious revised (2023) IMO GHG strategy, and production and distribution of new renewable green fuels. Meeting the Intergovernmental Panel on Climate Change (IPCC)-aligned climate goals for shipping decarbonization presents a challenge - especially for developing countries - but maritime decarbonization also creates new opportunities and synergies which can accelerate the transition to a low-carbon economy.
African countries can identify possible ways to progress the adoption of energy efficiency measures and of new cleaner fuels. They can also help identify funds to unlock investment in research and development that assist the industry in achieving the goals of the Paris Agreement.

The maritime sector in Africa must harness these new opportunities for growth arising from the green transition. 
IMO regulations can drive maritime innovation worldwide. The decarbonization of maritime transport in Africa can unlock opportunities and investments across the whole maritime value chain. These opportunities reinforce the prominent role of shipping as an enabler of a global energy transition, and as a catalyst to transform to a low-carbon economy at national level. 

The Low-Carbon Shipping in Africa conference will explore the challenges and opportunities of shipping decarbonization for African countries. It will also provide an opportunity to discuss differing perspectives and priorities amongst developing countries in ongoing IMO negotiations on the adoption of an ambitious revision of the Initial IMO GHG strategy, and the development of mid-term greenhouse gas reduction measures.